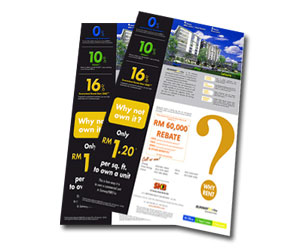 Print Power provides many types of high quality flyer that will impress your customers. By printing flyer you may deliver your message to your customer effectively. We do provide full color and premium materials for flyer printing in order to have an impressive printout.
SIMILI Paper - 80gsm › ID: S080
SIMILI Paper - 100gsm › ID: S100
ART Paper - 105gsm › ID: A105
ART Paper - 128gsm › ID: A128
ART Paper - 157gsm › ID: A157
ART Paper - 230gsm › ID: A230
ART Paper - 260gsm › ID: A260

A flyer (also spelled flier or called a handbill or leaflet) is a single page leaflet advertising a nightclub, event, service, or other activity. Flyers are typically used by individuals or businesses to promote their products or services. They are a form of mass marketing or small scale, community communication.
Flyers are handed out on the street (known as "flyering"), posted on bulletin boards, or given away at events. Bulletin boards are found on college campuses, in cafes, community meeting houses, laundromats, and small markets. Flyers, along with postcards, pamphlets and small posters, are forms of communication for people who want to engage the public but do not have the money or desire to advertise over the internet, in telephone directories, or classified or display advertising in newspapers or other periodicals. As marketing became more direct in the late 1980s and 1990's, flyers evolved and currently there are many formats to be found. Some examples are:
A4 (roughly letterhead size)
A5 (roughly half letterhead size)
DL (compslip size)
A6 (postcard size)
CC (credit card size)
Flyers are inexpensive to produce and are regarded as a very effective form of direct marketing. Their widespread use intensified with the spread of desktop publishing systems. In recent years, the production of flyers through traditional printing services has been supplanted by Internet services; customers may send designs and receive final products by mail.