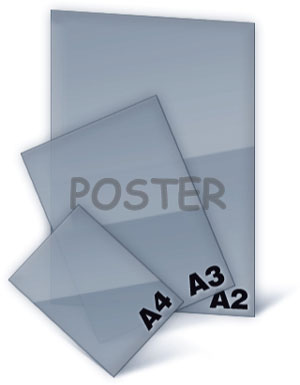 Poster printing is a perfect advertising method which able to catch customers attention very easily. Print Power provides various types of shapes and sizes of poster that able to meet your requirement. You may choose to print full color of poster which able to give an impressive effect on your poster.
SIMILI Paper - 100gsm › ID: S100
ART Paper - 128gsm › ID: A128
ART Paper - 157gsm › ID: A157
ART Paper - 260gsm › ID: A260

A poster is any piece of printed paper designed to be attached to a wall or vertical surface. Typically posters include both textual and graphic elements, although a poster may be either wholly graphical or wholly text. Posters are designed to be both eye-catching and convey information. Posters may be used for many purposes. They are a frequent tool of advertisers (particularly of events, musicians and films), propagandists, protestors and other groups trying to communicate a message. Posters are also used for reproductions of artwork, particularly famous works, and are generally low-cost compared to original artwork. Another type of poster is the educational poster, which may be about a particular subject for educational purposes.

Many people also collect posters, and some famous posters have themselves become quite valuable. Collectors' posters and vintage posters are usually framed and matted. Posters may be any size.